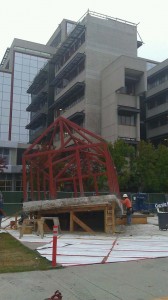 Here a few random construction photos that show the development of part of Do Ho Suh's Fallen Star installation that I posted on a few weeks ago [ here ]. I'm sure there are practical reasons for building the little house on the ground before hoisting it seven stories into the air to its perch on the side. But having it take shape at eye level has been interesting and exciting, and it's a great way to involve future viewers of the artwork in the piece as it evolves from yards of concrete and stacks of steel beams.
As I view the piece come into being I can't help but imagine being the construction firm approached to construct this little one-room building: "We want you to build us a house. Only much of it's going to cantilevered over the edge of a tall building. And the house itself has to be built with a strong rake to the foundation, making the whole house slant at a serious angle…" A project like this doesn't come along every day, and I'm sure somebody had some serious fun getting to work on it.
At this point the project has progressed to where stuff is happening on the inside, but it's a mystery to outside viewers. The next big milestone will be when the exterior sheathing with its bouncy blue color shows up. Stay tuned.
I touched base with the Stuart Collection folks about the "garden" around the house. Yes, it's going to be live plants. The intent is to make the garden look a bit like the house, as if house and garden are little slice of Provincetown that have flown and and been wedged into the California fabric.
There are probably thousands of Southern California houses with clapboard siding and gardens with hydrangeas and roses that would be good models for what the artist is trying to achieve. As much as these gardens require lots of added water and attention to get them to thrive, the real stunt will be to try to pull off the effect when the house and garden will be elevated seven stories into the air. The collection is working with a landscape architect to come up with a mix of plants that will represent the botanical displacement but also be plants that will survive life on the edge, exposed to the elements.
It shouldn't be that much longer before this house gets lifted into place. I suspect they'll be using cranes and not a giant flock of balloons, even though several of you have commented on how much the plans for the house make it out to be a dead-ringer for the flying house in Up. More pictures to follow…