Things have slowed down. It's November for godsakes. But stuff keeps happening in the garden.
Probably the most remarkable thing blooming is this, a variegated mutation of Salvia divinorum.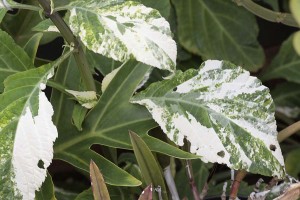 I noticed the variegation a few months ago and will try to propagate the part of the plant with speckled leaves. A sport partially lacking chlorophyll would be at an evolutionary disadvantage out in the wilds, but gardeners–We're weird–we'll propagate these runts just because they're pretty-like.

This is probably the most dramatic of the alligatored leaves. Even though many leaves are variegated, you can see that it hasn't stopped those parts of the plant from flowering.

Enough of the leaves, this being Garden Bloggers' Bloom Day. (Thanks as usual to Carol of May Dreams Gardens for hosting this monthly meme on every fifteenth of the month.) Let's take a look at the flowers.

The blooms are fuzzy up-close, like some other salvias, including the Mexican bush sage, Salvia leucantha, a dependable low-water plant that's common in Southern California and beyond. This blossom looks very friendly in a lisping, come-hither, snaggletoothed sort of way.
Unfortunately if you're a gardener under the age of 18 in California you can't purchase this plant. In some other states owning a plant can buy you three years in prison. I'm sorry but all this sounds ridiculous. People sometimes complain about a government being a "nanny-state," but many of the states where you hear that claim being made loudest are ones that are likely to ban this plant. Hey, look at the cool flowers! Look at the the cool leaves! This is obviously a plant with ornamental value, just like Gramma Olive's opium poppies.

Flowers are scarce all around, but if you look deep enough into many plants you'll see a few hardy holdouts still in bloom. And with winter on the way, there are a precocious winter bloomers starting to do their thing. This one's germander sage, Salvia chamaedryoides. As far as I know, this plant the rest of those featured here are perfectly legal to grow everywhere.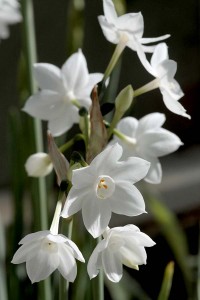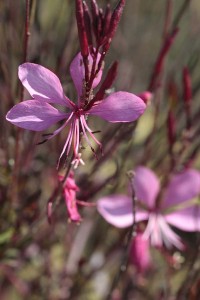 And, finally, a few shots of everyone's favorite this time of year, Protea Pink Ice. Happy Bloomday!