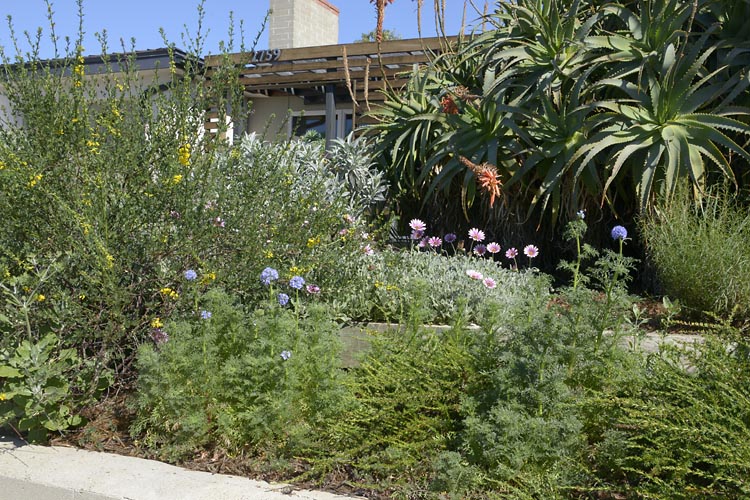 With several days above 80 degrees this week, it's feeling like spring. And surveying the garden, it's looking like spring too.

Lest any of you in the lands of blizzards and crazy snowfall think I'm gloating, let me show you one of the many weed patches around the garden. Yes we have lots of spring flowers already. But we also have lots of zones around that look like this. But enough of this unpleasantness. On to some flowers!

The first things anyone walking up to the house will notice are the two ginormous flowering spikes of the Agave attenuata. They're a pretty common plant around town, but their seven or eight foot flowering spikes from November to February or March cannot fail to impress. If the blooms were coral pink or violet you almost might call the plant gaudy, but they're a quiet icy greenish-white. Gaudy, but in a subtle way.
The number of California native plants in the garden keeps growing. Their two most common spring flower colors seem to be bright yellow and lavender, a combination that can stand my teeth on edge, so I tried to tone down the clashes with some plants with in-between shades of bloom. Apricot is a great peace-maker color, and I've used a golden chuparosa, Justicia californica 'Tecate Gold' and apricot mallow, Abutilon palmeri.
But still, there's lots of yellow around: Bladderpod (Peritoma/Isomeris/Cleome arborea), our local coastal coreopsis (Leptosyne maritima), plus aeoniums from the Azores or Africa.
And there's plenty in the lavender category: the very first (and really early) flower of Salvia 'Winifred Gilman', the prolific prostrate black sage (Salvia mellifera repens), "blue" dicks (Dichelostemma capitatum) and blue-eyed grass (Sisyrinchium bellum) that reseeds itself at the edge of the veggie garden.

And a few others: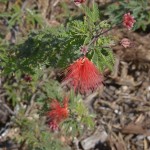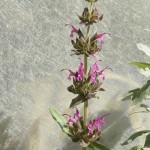 This is my first contribution in many many months to the Garden Bloggers Bloom Day meme hosted by Carol of May Dreams Gardens. Thanks for hosting, Carol. Check out what's flowering around the garden blog world [here] !