I've been posting on the progress on the Fallen Star piece that Do ho Suh has designed for the Stuart Collection at UC San Diego. November 15 was the big day for it to get hoisted from the ground, where it was being built, to the rooftop, where it'll spend the next many decades. Here are some pictures from before, during and after. Unfortunately life intruded and I was having to attend a meeting during the most dramatic part of the process, when the house first left the ground. But I at least got a few shots of the house dangling over its eventual perch.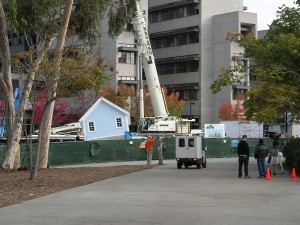 And here's a Youtube video of the big hoist from the Jacobs School of Engineering, the school that is housed in the structure that the house landed on:

And another from a different viewpoint, more dramatic than the first. The first two minutes are the best:

And for you total junkies, yet another vantage point. Once again the first part is the most dramatic.
http://youtu.be/EeIyUUgPz3c
The piece a couple mornings later, after the removal of the cranes…
There's still more work to do before the grand unveiling, a TV and fireplace to install inside, a garden to plant outside. But this was definitely a big milestone. I'll post more once I get up on the roof and have some closeup views.