For this month's Garden Bloggers Bloom Day I have some closeup photos of some of what's blooming in the garden. I've done a couple posts on using backgrounds behind plants (Background check / One way to photogrpah a tree). Inspired, all but one of these shots uses a white sheet of matboard placed behind the plants. Each color of background presents a different end result. Using white accentuates dark flowers and stems, and some of these photos are a busy network of dark lines against the light background.
There are some newcomers just coming into bloom, but many plants have been in bloom for several months. When life gives you more of the same flowers…well, I was thinking I'd try to photograph them a little differently.
I suspect the neighbors think I'm odd enough taking pictures of everything in the garden, and I thought it'd be extra-distressing if I were to be walking around the garden with a big white board as well as the camera. As a result all of these are from the quiet privacy of the back yard, with the exception of the one plant without a white background.
Purple coneflower, Echinacea purpurea.

Lion's tail, Leonotis leonorus; Desert mallow, Sphaeralcea
ambigua.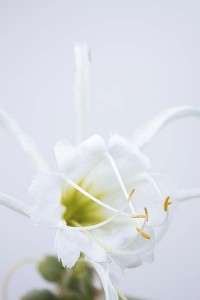 Peruvian daffodil, Hymenocallis festalis; Freeway daisy, Osteospermum sp.

Verbena bonariensis; Juncus patens (with fallen leaf caught in the plant).

Some salvias:
Salvia nemerosa 'Snow Hills'; Ivy-leaved sage (Salvia cacaliaefolia).


On the left is Andean sage (Salvia discolor with its almost black flowers set in light green calyces; on the right is Salvia microphylla 'Hot Lips.'

Some California buckwheats:
Flat-topped buckwheat (Eriogonum fasciculatum)


San Miguel Island buckwheat (Eriogonum grande var. rubescens)


St. Catherine's lace (Eriogonum giganteum)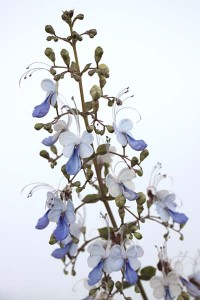 Butterfly bush (Clero- dendrum ugan- dense); seed pod of whitetop pitcher plant (Sarracenia leucophylla).

Pink and white double bougainvillea (unknown variety); Agastache aurantiaca 'Apricot Sprite.'

Pink double bougainvillea (another unknown variety); toloache (Datura wrightii).

Thanks again the Carol of May Dreams Gardens for hosting Garden Bloggers Bloom Day. It's a terrific way to build community among garden bloggers wanting to share the flowers in their gardens. Check out this month's offerings!