What are bloggers talking about during these cold January days? Here's an addictively fun way to find out.
Wordle lets you generate word clouds that are stunningly beautiful to look at. The site calls itself "a toy for generating 'word clouds' from text that you provide," but I'd argue that it's an interesting way to figure out the gist of what's being discussed.
Word clouds have been around for a few years now. I wrote about them back in the earlier days of this blog, and this blog displays a tag cloud on the left panel. But Wordle gives you all sorts of control over things like color, font, language and arrangement. Just click on the home page's "Create" tab to get going. All you need is some canned text, a link to a blog or website with an RSS or Atom feed, or you can enter a del.icio.us username to see a cloud of their tags.
Here's a quick Wordled look at some of the posts on some California mostly-gardening blogs. I selected black backgrounds for all of them so that there's a basis for comparing them visually, but I had way too much fun creating color combinations and picking fonts and word arrangements. The blog contents should be current as of last night, January 13.
(There are a huge number of these. I've been home with a cold, too messed up to think coherently–but not too compromised to play with shapes and pretty colors. It makes me wonder whether the part of the brain that thinks is even in the same zip code as where artistic activity takes place…)
To start off, the content of this blog, before this post…

California Native Plants…San Diego Style, Wordled.

Sierra Foothill Garden, Wordled.

Rooted in California… (Did somebody say gelato?)

Bay Area Tendrils Garden Travel…

How's Rob?, Wordled. Bees!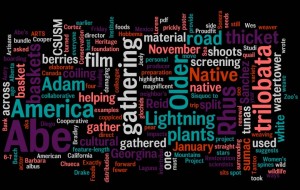 Deborah Small's Ethnobotany Blog…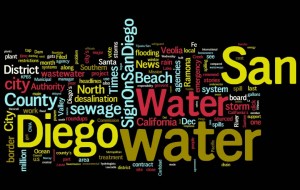 And how do California obsessions compare to those from other parts of the country?

From New Jersey: View From Federal Twist. During the cold of winter, do people living in what I'd call the frozen tundra retreat indoors?

Cape Cod: The Midnight Garden…

From in the rain shadow of the Olympics, Washington State: Verdure…

Oregon: Danger Garden…

Maine: Jean's Garden…

And how about to some blogs from other parts of the world?
From the UK: An Artist's Garden…

Also from the UK: The Patient Gardener…

UK again: Plantaliscious…

South Africa: Elepant's Eye…

So, after looking at of these, do you think the word clouds begin to fairly represent what the blogs are discussing? Or is Wordle really just a toy?