A couple hours of community service: Sounds a little like a sentence handed down by a judge, but it was actually how I spent some of last Saturday. I've posted earlier about the native plant garden at Old Town State Historic Park. That trip I was walking the paths and enjoying garden.
But this time I was a volunteer helping maintain this interesting young garden. Much of the time I was squatted down in the dirt pulling up little palm trees. If you live in another part of the world you might think that pulling up palm trees is a bizarre thing to do. But palm seedlings are a very real weed around here, especially when there are still actively fruiting palms nearby, and when there's still an active seedbank left from one of the palms that was removed to make way for the garden.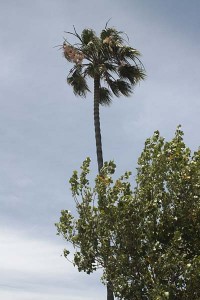 In just one month since my last visit, the number of flowers had diminished as we head into our long brown season when many plants approach dormancy. There were some splashy clarkia flowers remaining, as well as this mallow from the Channel Islands.
There were other weeds to pull at, and the day ended with a quick pruning demonstration and a demonstration on one way to maintain deer grass (Muhlenbergia rigens). With this big, dramatic grass you can let the stems go brown–which is an easy-maintenance approach to this plant. Or you can reach down on each of the old flowering stems, feel for a joint a couple inches above the base of the plant, and pull.
If you find the node, the stem yanks out without much resistance. It's not a chore you can do easily while wearing thick gloves, and without gloves you've likely to shred your hands. Fortunately this a grass that looks stately and architectural whether or not you pull the dried stems. We left most of the plants as they were.
After just two hours of tidying the garden looked even better and ready for the dry months ahead.

Jump ahead one week…
Even though June is typically one of our dry months, today was cool and drizzly as John and I headed for the Master Gardener's plant sale at Balboa Park.

We parked near the park's jumbo Moreton Bay fig (Ficus macrophylla). It's an amazing plant, but like many figs, it's not a good choice if you're concerned about keeping your home's foundation intact. I was appreciative of having the park, a great publicly-funded shared space, where you can go to enjoy spectacular plants that don't make sense to plant in most home spaces.

Rain or shine, the people make a trail to this plant sale. This is half an hour before the sale, with all these brave souls standing in the heavy mist waiting to get first crack at this year's offerings.

…and this is during the first few minutes of the sale.

Some highlights this year were bromeliads from Balboa Park's propagation program–big plants for the price of a Happy Meal–and an entire table of different salvias. As thrilled as I am with the genus salvia, I resisted the temptations. No space in the garden is no space in the garden.

But John didn't show the same restraint. He likes his succulents. And the more unlabeled the succulent is the better. I swear he does this to drive me crazy, knowing how much I like my plant names. (The succulent expert on site looked at it and said that it's some sort of crassula relative, which is what I'd have called it. Okay, we have a family name, and now only 1400 species to go through… Any help out there?)

Although we didn't end up dropping a lot of change on this sale, many people with more space in the gardens found interesting plants to populate their spaces. And the proceeds from the sale go to a good cause.
So these two Saturdays showed a couple way you can help the botanical organizations around town. You can donate your labor. Or you can do what comes naturally for most Americans: Go shopping!