Here are a few more photos from My previous post looked at the Cultivar Garden and Wildflower Meadow at Rancho Santa Ana Botanic Garden. Today I'm sharing a couple more categories of what you'll find there: shade gardens and California natives grown in containers.

Parts of Rancho look wild, and the shade plantings fall into that category. Coral bells and iris form a dense green carpet and pink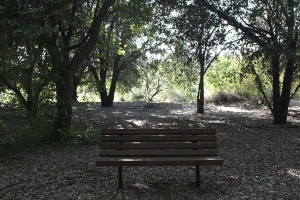 This place is very much a tended garden, but these many acres of oaks under-planted with drought-tolerant shade plants buzz with a wild vibe. Benches under the oaks humanize the space and let you know things are under control.
Most of us probably don't have anything approaching the acreage to pull this off at home. Places like this are great to appreciate plantings taken really big.

I liked the starry yellow flowers in this planting. Bloomeria, maybe?

Closeup of the yellow flowers…

A killer group planting like this makes me think that my little row of coral bells at home is lame by contrast.

Moving out into semi-shade I found this iris. Many plants near it were labeled. This one was not. CalFlora didn't help with the ID, so if any of you have any ideas, let me know!
By contrast to the shady woodlands the demonstration container garden looks totally suburban and attainable. It's much smaller in scale and the corrugated steel fence-walls give the space a sheltered backyard sort of feel. There's a golf course on the other side of the fence (not part of the garden) to provide comfort if all the nature-looking plantings in other parts of the garden scare you.
The tallest plant in this photo is a variegated form of Cornus sericea, 'Hedgerows Gold.'
Here's a detail of the foliage, yellow-green with darker green splotches. Yes, the leaves are really cool, but so are the red twigs. This is a great plant even in winter, after the leaves have dropped.

Ceanothus Silver Surprise was another option with variegated foliage.

In the container garden they have a couple of these sculptural knots of dead plant parts. Primal and just a tad scary.

Most of the potted plants looked urban, but a few moved back towards nature, like this pot of bunchgrasses interplanted with wildflowers. Here the gilia was in bloom.
I took more photos, but you get the idea…
Be sure to go for a visit if you're in the neighborhood. And you wouldn't go wrong planning a little vacation around it.