Maybe three years ago I started some coyote bush from local seed. This species, Baccharis pilularis is a pretty easy plant to reproduce this way, pretty close to "just add water." It produces plants that are either entirely male or entirely female in the kinds of flowers they produce, or "dioecious" in botany-speak. When you grow them out from seed you have a pretty even chance that a single plant will be male or female.
Each gender has its uses in the garden. The males are great if you want a fast-growing reliably green mound of foliage that keeps requires close to zero added water in a garden situation. Virtually all coyote cultivars are boys.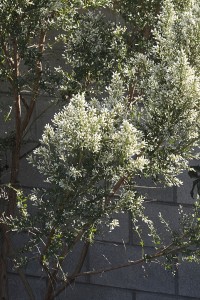 The females are also fast-growing reliably green mounds of foliage that keeps require close to zero added water in a garden situation. But unlike the males produce thick foliage-obscuring quantities of white seed heads in the late fall and early winter when most other plants aren't quite so glamorous. They're spectacular, but come with the down-side that the seeds can flit about and land all over, populating your garden with little coyote bushes. This is why most named cultivars in the nursery trade are males. The sole exception, which was pointed out to me by Barbara of Wild Suburbia, is Centennial, a believed hybrid of this species and B. sarothroides.

Some closeups of the seed heads…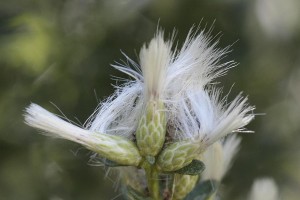 I've waxed poetic about the hillsides shot with flashes of white like this one that you see at this time of year.
Now I guess I'm putting my money where my mouth is. How bad is it having a female coyote bush in the garden? I'm about to find out, and I'll report back here. But I doubt it'll be any worse than a few other plants in the garden that spread themselves about. And if a few plants find their way into the bleak rental next door where the only things the renters are growing in their dirt-patch of a garden are mastiffs and bulldogs, how can it be a bad thing?