As winter approaches many of the plants in the bog garden are starting to retreat into dormancy. Sunday I filled part of a bucket with the trimmings from the bog and two trays of potted carnivorous plants.
I have mostly American pitcher plants, sarracenia, and I've been starting to learn the rhythms of the different species and hybrids. Many put out their main flush of growth in the spring and look progressively scrappier and scrappier as spring turns into summer, and summer into fall. Many of these are now tidied up in the bottom of this bucket.

Others sync up with hurricane season, presenting their most spectacular pitchers in late summer and fall when heavy rains can be expected in the American Southeast. The white-topped pitcher, Sarracenia leucophylla, is the most charismatic of these. At least two clones have been tissue-cultured and are commonly available, 'Tarnok' (to the left) and 'Titan' (to the right). In spring, a mature Tarnok will produce big red double pompoms of sterile flowers that will persist long into the year. The flowers being sterile, this could be considered a cultigen, a plant incapable of reproducing itself except by seducing members of the human species to keep it alive via division or cloning. 'Titan' is supposed to have the unusual ability to produce pitchers over three feet tall, though in my too-dry, less than ideal conditions, it's not as good a grower and clumper as Tarnok.
'Judith Hindle' is another tissue-cultured, commonly available plant. I called this Sarracenia Trader Joe's for a year because that's where I bought this no-label plant. But I've decided it's Judith Hindle because there was a whole big display of plants that looked just like this one, and I'm fairly certain that it's the only hybrid that's been tissue-cultured that looks and behaves like this. Like its leucophylla grandparent, it gives up its best pitchers in the fall.

Another plant that's still got a few nice pitchers this late in the year is this red-lidded versions of the species S. alata.

And this hybrid, 'Super Green Giant,' seems to be doing well late in the season, though I've only had it since August and can't vouch for what it'll look like the rest of the year. Also, it's lived a coddled life in a pot standing in water, not one loosed in the outdoor bog with these other plants.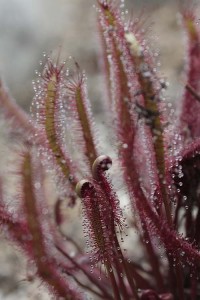 Not everything is pitcher plants. This is the very easy-to-grow (some would say "weedy") Drosera capensis, red form, a sundew from wet spots in South Africa. If you let it flower it will set seed. And if it sets seed, it can spread throughout your collection. I'm trying to figure out which of the bog plants can get by with less than boggy conditions. So far this is one of them.

In addition to the bog garden, I have two tubs of water with other plants. A very few are still looking presentable this late in the year. Three hybrids in this tub combine to make a lively red-and-green display: 'Mardi Gras,' 'W.C.' and a primary hybrid, x mitchelliana, made by Jerry Addington of Courting Frogs Nursery and retailed by Karen Oudean of Oudean's Willow Creek Nursery. All of these hybrids are one half or at least one quarter leucophylla, so they retain some of its abilities to look nice in the fall. They also involve other species that tend to have a stronger year-round presence instead of retreating to a rhizome for the winter.

These trays of plants have moved from the unheated greenhouse, hopefully to trigger the dormancy that most of these plants needs to thrive. Another hope is that they'll get a taste of rain and not yet another drenching of reverse-osmosis water. After many weeks with nothing, they finally got treated to our first big storm of the season. When I came home last night the trays had almost three inches of water in them. Real water. Free water from the sky. At last!