As far as interpretative visitor's centers go Anza-Borrego Desert State Park has a pretty awesome one. The area has a rich mix of natural and cultural resources and histories, and the center does a good job of introducing you to some of the highlights. It's also staffed by knowledgeable staff and volunteers happy to get you started with what to see and do.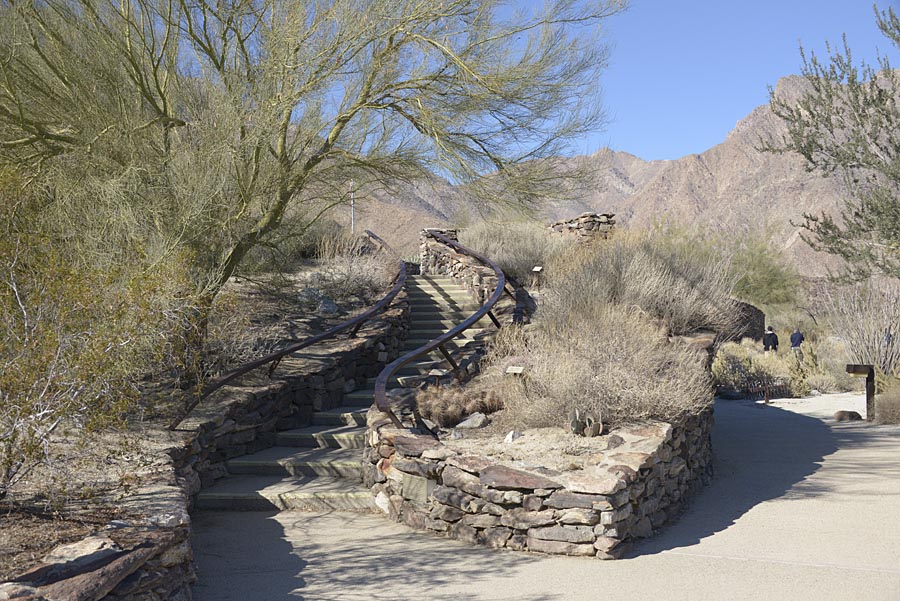 The building itself is pretty cool in that it has a green roof–if you can call desert plants with white sand in between "green." It's painfully hot (and cold) much of the year, so it helps moderate the temperatures inside the visitor's center.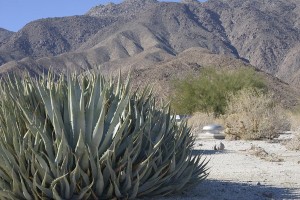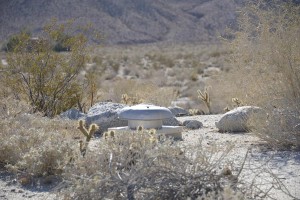 Up top they've done a pretty good job of disguising the fact that there's a working building underfoot. A few vents tip you off that this might not be a normal desert floor…

Immediately outside the center's doors there's an impressive desert garden that'll get you up to speed on the main plants you'll find in the area. And it's a chance to see one of the locally rare specimens of torote, the elephant tree. Among the more common and more charismatic species: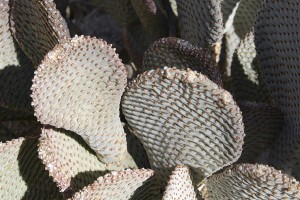 Beavertail cactus (Is this plant's name an oxymoron, at least in the sense that you'd never see a beaver anywhere near cactus habitat?)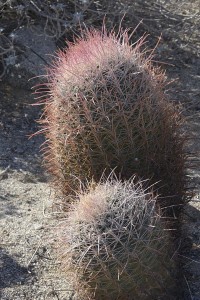 Barrel cactus…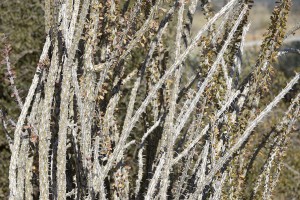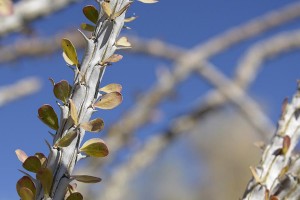 Ocotillo…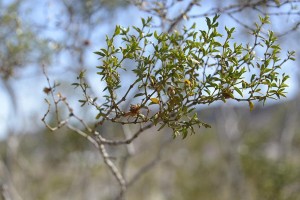 Creosote bush.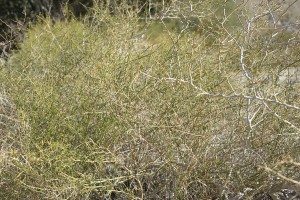 Indigo bush, too early for it to be blooming, but a wonderful vaporous texture.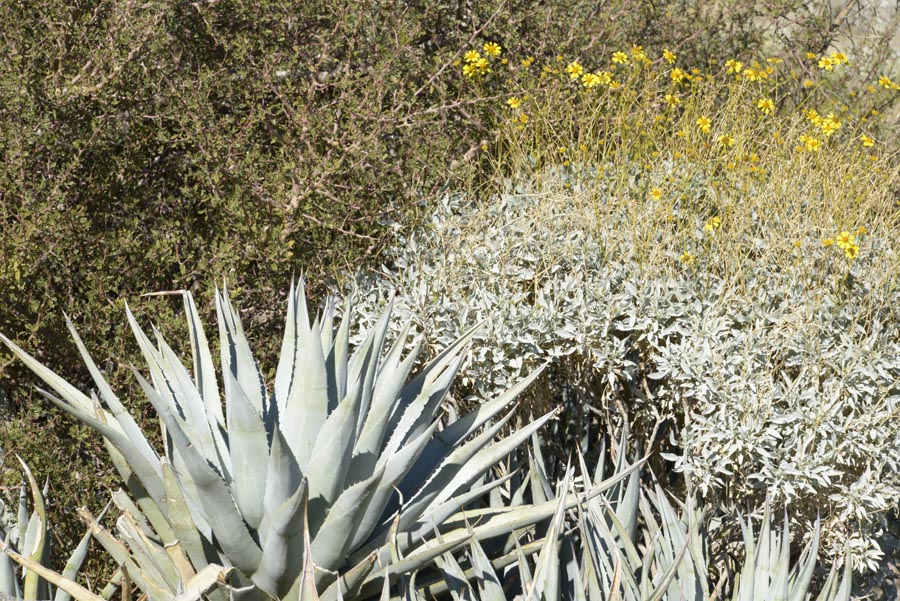 Some things were already (or still) blooming. This is a nice little tableaux of brittlebush, Encelia farinosa with desert agave, Agave deserti in foreground.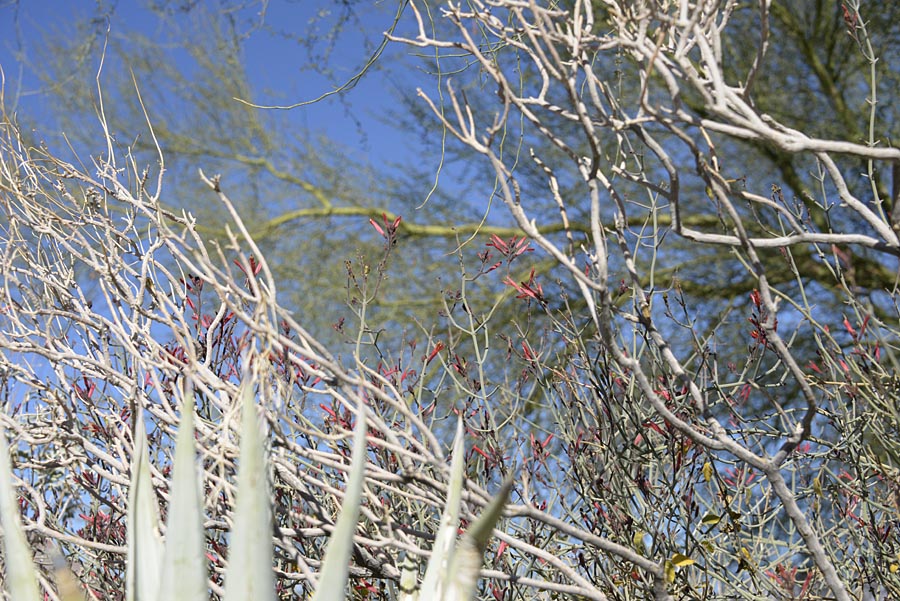 And this busy tangle features red blooms on chuparosa, Justicia californica. When you encounter it later in the season the plant is leafless, but there was water enough that you could find leaves on many of its branches.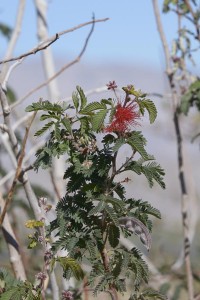 The last thing I saw blooming with any umph was this fairy duster, Calliandra eriophylla. It's flowers are smaller, maybe a couple inches across, than those of the Baja fairy duster, C. californica, that is sold more frequently. Yes, California does have a plant that could easily be mistaken for a bottlebrush from down under.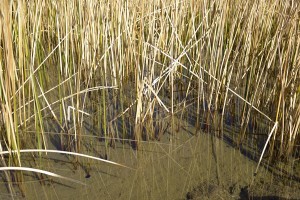 A pond feature provided habitat for the über-rare desert pup fish. There were plenty in the water, but I guess the critters consider photographers predators and scurried off. Justin Bieber behaves the same way.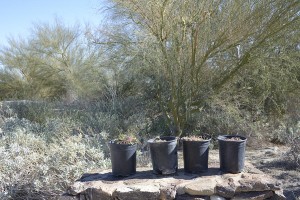 A few gallon cans lets you know that this, like any other garden, is a work in progress.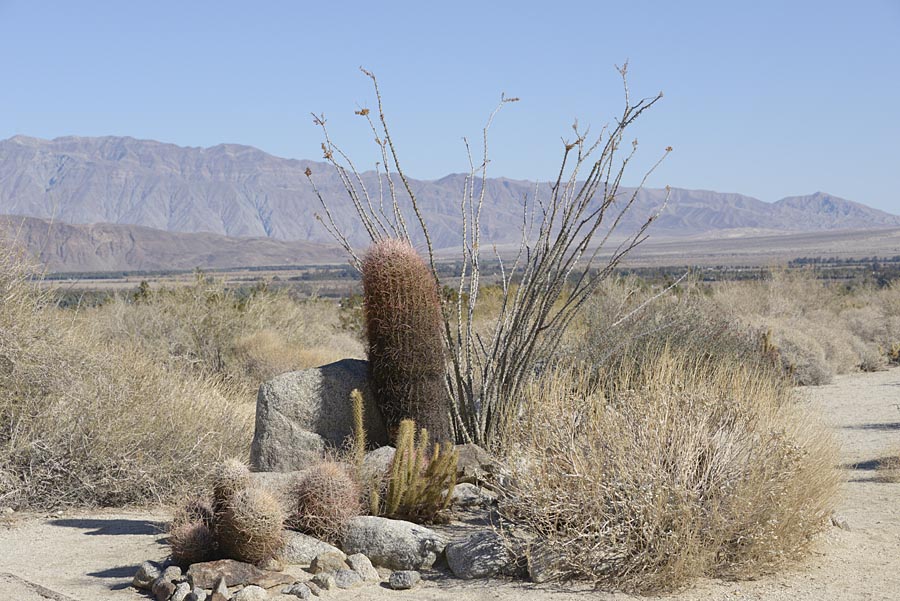 And a final shot, a nice grouping of some of the plants above, arranged to please the eye, though the plants might consider themselves a little too close for comfort. But given a little extra water and grooming, you can get away with it.
When "in the neighborhood," be sure to check out the center and the garden.