On my last nursery trip I noticed a new horticultural ceanothus selection that I hadn't encountered before. Ceanothus Tuxedo is striking because of its brown-black foliage, a leaf color I've never seen before on a ceanothus. In this photo you can see its large, dark foliage contrasted against the bright medium green of a more typical ceanothus.
Tuxedo arose as a mutation on a branch of Ceanothus Autumnal Blue, a hybrid of C. thyrsiflorus and C. ×delilianus (which is itself a hybrid of a hardy deciduous species with a more tender evergreen one). Autumnal Blue isn't a plant that's a typical constituent of California native gardens, instead being an old British hybrid that was bred for its hardiness. Also unlike its purely California brethren, it blooms in summer or fall, not in the spring.
The new Tuxedo selection is reputedly drought-tolerant. Looking at its ancestry, however, it's clear it will require some supplemental summer water in dry climates. There's no question that it appreciates good drainage. Mature height is listed as at least six feet high and across.
Next to Tuxedo in the nursery were a couple variegated ceanothus. C. thyrsiflorus 'El Dorado' features small light green/dark green leaves on a large shrub. In summer the leaves will show more contrast, with the light green turning more of a yellow color.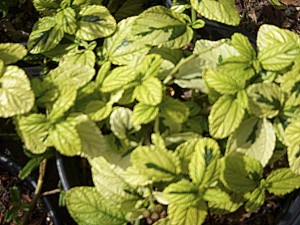 If you want yellow-and-green leaves in a more spreading ceanothus, there's C. griseus horizontalis 'Diamond Heights.' (Sorry for the fuzzy photo…) You could think of it as a variegated version of a well known groundcover ceanothus like 'Yankee Point.'
Both of the above could be considered low-water (not no-water) plants for a garden.
California native plant purists might think twice before planting any of these selections. They scream that they're garden plants and not visitors from the wilds. But these ceanothus do give you more options if you'd still like your plants to have a bit of laid back California attitude to them.

The last ceanothus I want to share is a wild plant, taken about ten days ago just outside the Santa Ysabel Open Space Preserve in the San Diego County foothills. Chaparral whitethorn (C. leucodermis) has got to be one of the most unique of the genus, combining fluffy, vaporous blue-tinged white flowers with a plant that has bark as white as an aspen. It's an amazing effect.

But unfortunately the plant appears to be singularly difficult to grow in anything but the perfect garden spot. Taking up the slack is a garden-friendly hybrid, L.T. Blue (L.T. equals leucodermis x thyrsiflorus), which preserves the white bark color and blue (if not misty blue) flowers of leucodermis in combination with the much more garden-tolerant C. thyrsiflorus. Las Pilitas carries it, and this last photo is from their site.