October can be the cruelest month. The first couple of days saw a return visit from Satan's HVAC guy. Freaking hot. And same goes for Wednesday of this week. October was the month of the big wildfires in 2003 and 2007.
This October also brought the first measurable rain since May, when the month saw 0.02 inches of rain. According to San Diego weather enthusiast John S. Stokes III, "[t]his is the 19th time in the last 163 years June, July, August and September have been zero/trace." But after a dry summer we got some rain, and change is in the air.
One of the California native plants that weathers the dry spell best is the coffeeberry, Frangula california or more commonly known and sold by its old name of Rhamnus californica. With only occasional supplemental water the plants stay looking green. Give them a little more water and they can look absolutely lush.
You can buy different clones of coffeeberry, and they do do slightly different things. The most "normal" looking plant, from a non-native horticultural standpoint might be the clone Tranquil Margerita that's sold by Las Pilitas. If you read any British garden writing you'll encounter the word "gardenesque," and this clone could be used to define the word. Neat, dense and well-behaved, with long, somewhat glossy leaves, it would fit seamlessly into cottage garden landscape.

Eve Case is a clone that goes back to its introduction in 1975 by the Saratoga Horticultural Research Foundation, a group that was founded in 1952 through the vision of horticulturalist Ray Hartman to give Californians more climate-appropriate choices for their gardens. Compared to Margarita, Eve is a wild woman. This clone's leaves are coarser, a little reflexed, and come fewer to the stem than with Tranquil Margarita. If Margarita was gardenesque, Eve might be called "woodsy." Here's one of my plants of it–probably not the best examples of what this clone can look like. But it's a real-life example of what gophers can do in a garden to retard the growth of plants, with this plant going into the ground after the previous one.

Mound San Bruno is somewhere between the previous two clones. The leaves tend to be a little smaller, and not so recurved like in Eve Case. My plant of it is a really bad example. I put in the ground and assumed that the little drip emitter would keep it happy. But some evil critter–gophers again–buried the emitter so that the plant got next to no water for several months. If the plant had a chance to get established it would have weather the dry spell just fine, but this plant didn't fare so well. But as soon as I fixed the emitter it came back, and should look terrific after it gets a moist winter to get it established.

People grow coffeeberries for the reliable green foliage. But they also grow this plant for its berries. True to its name the berries mature to a dark shade like dark-roast espresso beans. I mentioned change earlier, and this seems to be the month when you see the berries making their transition in a big way.

Some plants have a multicolor mix of fruits at this point in the season.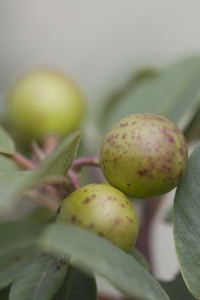 For me Eve Case is just starting the transition, showing colorful spots on the original green berries.

Next in the coffeeberry spectrum are warm oranges…

…quickly followed by pink-inspired reds.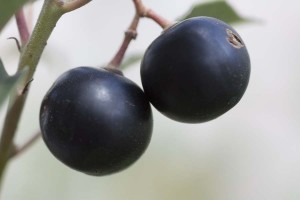 The final color stage is this namesake coffee bean color. The birds are sure to show up once they find out coffeeberry is served…