You could probably gather together six gardeners and get six different opinions of what would make a plant garden-worthy. But I suspect there might be somewhat more agreement on certain other plants that probably shouldn't be included in a garden. Here are some encounters from Sunday's trip to Tecolote Canyon that would fall easily into most people's less-than-desirable category.
I'll have to admit to actually liking this plant to the right. During the winter it drops its leaves and is an attractive thicket of upright or sprawling branches. This time of year it starts new growth that has this warm red-brown coloration. It'll flower soon, and then set some loose clusters of white berries. Pretty, yes, and native, and important to wildlife. But this is poison oak. Maybe not the best choice for small backyard gardens…
Most of the rest of my list below is comprised of exotic plants that have staked a claim for themselves at the expense of the native species. Different locations have their own list of invasives, so what you see below is tailored to Southern California. Some of these plants could be good choices for other locations. Others would be trouble almost anywhere you grow them.
[ At this point I'd like to dedicate the rest of this Friday the thirteenth post to Outofdoors, who last month devoted her Friday the thirteenth post to invasive plant species. ]

I won't go into too much detail about this troublesome trio. People have been working hard to get the word out on pampas grass, green fountain grass, and iceplant. The grasses, in particular, can be gorgeous things in gardens, waving in the breeze and lending their dramatic form to groups of softly mounding landscape shrubs. You can see why people want to grow them. But are they garden-worthy in Southern California?
All three of these quickly check out of people's gardens and make for the wilds. I found both grasses and plenty of iceplant escaped into the canyon, here on this hillside and in other spots. So, as pretty as they can be–and I consider this drift of fountain grass in the second photo to be particularly poetic–these three would be better left in their native lands, or grown in climates where the weather might limit their spread.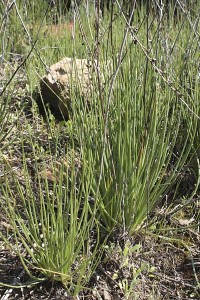 This is the first flower I saw this season on the local plants of onion weed (Asphodelus fistulosus). The first time I saw it I thought it was a wildflower and wanted some for my garden. In full bloom the stalks of white flowers are an impressive sight. But they do spread like crazy. Not a good choice for the garden.

This combination of plants looks as impressive as any planting assembled by practitioners of the New Perennials garden movement. But once again, the plants aren't really welcome additions to the canyon. In the foreground is teasel (Dipsacus sp.), a plant with excellent year-round architectural structure but having invasive tendencies that are considered "Moderate" by the California Invasive Plant Council (Cal-IPC). Here it's set against a background of last season's black mustard, a problem in these parts since it was introduced by the Spanish in the eighteenth century. The Cal-IPC only considers the mustard's ranginess to be of "Moderate" concern, but also states: "Primarily a weed of disturbed sites, but can be locally a more significant problem in wildlands." I'd say it's a more significant pest locally.

Fennel can be attractive in the herb garden, but like the rest of the invasives in this post, this is another plant that gets around. Its overall undesirable impacts are considered "High" by the Cal-IPC. If I see fennel offered in the local nurseries it's usually the bronze colored strain. It's less vigorous, but all forms are considered invasive. I do wish this were a better choice for gardens because it hosts swallowtail butterflies, but at least there's plenty of swallowtail food out in the local canyons. The butterflies won't starve. Okay, I'll pass.

Say "Old California" to anyone who's lived in these parts for long, and this plant will probably come to mind. The Brazilian Peruvian pepper tree forms a gorgeous tree with long, delicate leaves that move any time there's a breeze. But unfortunately the plants develop berries that the birds find irresistible. While the Cal-IPC considers their threat to California to be only "Limited," there are plants that would be better choices.
The Australian peppermint willow (Agonis flexuosa), although not a native plant, is a good drought-tolerant substitute that looks a bit like the pepper tree but doesn't share its invasive tendencies. If you must have a delicate weeping tree that says "Old California" but don't mind a lilting Australian accent, this would be a better choice–and you can get varieties with either green or dramatic black foliage. Or you could give up altogether on the colonial look and go in for any of the truly native trees. It doesn't get any more "old California" than that.

As I reread this post I'm struck that I'm probably not doing a particularly good job of discouraging people from growing these plants. I keep going back to the beautiful redeeming qualities of these invasives, and I guess that's why they continue to be such a problem. The mind tells you they might be bad news, but sometimes it's hard to say no.
With this last image I leave the plant kingdom and turn to another species that's native to the local canyons. This one I think you'll definitely agree you wouldn't want around. I won't assume that you like snakes any more than I do, so if you want to see the picture you'll have to click HERE.
Still, who among you doesn't think baby animals are just the cutest things? Now, everybody, say "awwwww"… This is a little baby southern Pacific rattler, probably no longer than my forearm and too young to rattle. I'm deathly afraid of snakes but managed to fend off the fear to snap the picture and watch the snake as it coiled itself defensively and make like a sidewinder, sliding backwards into the grasses.
I have to respect these animals since they do wonders to keep down the rodent population. And they're every bit as native as the poison oak I showed earlier. But after having had one of these in the backyard facing off against my cat, I've definitely decided this is another species that's not garden-worthy, at least in my enclosed little space.
I admit it, I'm a wimp. Nature isn't always convenient is it? But throw out the rattlesnakes and pampas grass and black mustard and fennels and you're still left tens of thousands of cool and friendly selections to invite into the garden.