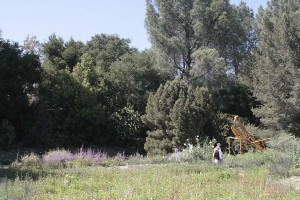 In mid-May we had a chance to go up to Claremont, home of the Claremont Colleges, to see John's niece graduate from Pomona College. (Congratulations Chrysanthe!)
Claremont also happens to be home to one of the premier California native plant gardens in the state, Rancho Santa Ana Botanic Garden. With all the competition from the graduation festivities we barely made it over, but we managed to pack in one more thing to do on a busy graduation afternoon.
Here's Part I of my photos from the trip.
The garden had an end-of-spring vibe gong on. There were flowers, but the floral orgy of late winter and early spring was past. Today the season belonged to late penstemons, wooly blue curls and various sunflowers (Encelia, Venegesia, Helianthus). And if there was a drop-dead gorgeous OMG plant it had to be the California buckeyes going at it in full force in broad daylight. They should be ashamed.

The first big gesture at the garden is the wildflower meadow. Lots of penstemon here, and a perky dose of yellow from the desert marigold.

What garden doesn't have an issue with bugs? Here they were hosting an outdoor installation of David Rogers' Big Bugs, some really big insects made out of natural materials.
With a visitor who's 6 foot 9 inches tall for scale, here you can see the size of these things.

The penstemon wasn't limited to life in the meadow. Someone with a big bag of seeds made sure any empty spaces got a sprinkling of penstemon. It makes for a gentle transition into the browns and grays of the summer native garden.

Nice shady places to sit…

Canyon sunflower.

Lots of folks visiting a native plant garden want to see how these plants can be arranged in a garden. The Cultivar Garden here showcases horticultural selections of the more garden-worthy natives. In the background is buckeye, once again, with sage in the foreground.

And a wider view of the Cultivar Garden. Who wouldn't want to have a garden like this?
More images to follow…