I did a little nursery hopping with John in North County yesterday. Inland North County is still in large part avocado country, and in fact they call that stretch of I-15 the "Avocado Highway." And mixed in with the avocados are various plant nurseries, some wholesale, some open to the public.
The first of two stops was Las Pilitas Nursery, a large cleared lot surrounded by sycamores, the southern outpost in Escondido of a larger concern up in San Luis Obispo. Most garden centers you go to seem to be packed with easy-to-grow stuff in bloom, plants that whore themselves at you with seductive blooms and intoxicating scents. If you head to Las Pilitas expecting that kind of experience, you'll be seriously let down, particularly in off-season.
A lot of the plants this trip were on the smaller side since it was still later winter and their stock was living outdoors, not in a greenhouse. And the place isn't not afraid to have big blocks of dormant things mixed in with the other stock. Some of the dormant things are leafless pots of scrappy looking twigs. Other dormant pots just look like pots of dirt where the twigs have died back entirely. Okay…..so you do have to take it a bit on faith that you're really buying a plant and not some nice potting mix. But stick the root mass in the ground and you'll hopefully have a plant before you know it. Think of it like you're planting bulbs.
And the plants in their inventory themselves live up to different expectations. Most natives aren't the high-strung prima donna garden plants at the garden centers. Some take their cues from the dry summers and go dormant in when it's hot. Other are winter-deciduous. These are plants you take with all their characteristics, and you'd probably not want to put them where you'd expect to have lush foliage and flowers all year round. But there are lots of things that look respectable year-round, along with a few that really are pretty extravagant all the time. I ended up with a pot of dormant twigs–Spiraea douglasii (western spiraea)–three Heucera maxima (island alum root), and one Carpenteria californica (bush anenome).
All that said, the owner, Valerie, is knowledgeable, committed and passionate about her plants. Below are pictures of these three plants from the website. Bear in mind that the plants I bought were little 1 galloners, though 1 galloners that I fully expect to start looking more like their pictures before too long…


The other stop on the trip was Buena Creek Gardens, in San Marcos, a totally different sort of experience. Located on several acres that have been planted like a small botanical garden, the feel of the place is calm and playful, lush and relaxed, where Las Pilitas was more serious and matter-of-fact.
This is one of their demonstration gardens, with some blooming iris and alstromeria, with a cordyline in the background.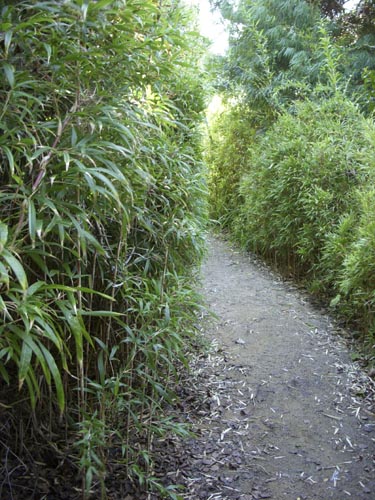 Connecting a couple of their demonstration gardens is this path through a bamboo thicket.

…and in bloom over one of their sales area was this Prunus species, a Taiwanese flowering cherry, I think she called it. The original plant was a shrub, not a tree. So the cool flowering cherry plant was grafted onto a tree to give this great effect. Unfortunately the picture doesn't do the plant justice.

Some of the cool plants in the ground were available for sale, but, darn!, many were not. Still we came home with six or so more plants. Sometimes it's pretty hard to resist some splashy plants, even if you're trying to go with a greater proportion of natives.
Okay, plants. You've been in the ground for at least six hours. Isn't that enough time for the yard to look just like the demonstration gardens?