This will be my second year helping out with the photography for the spring native garden tour of the San Diego CNPS chapter. Last year I supplied a few of the images, but I mostly helped editing photos that others had taken, sharpening, cropping, and color-matching everything from cellphone snapshots to nearly-perfect finished photos. This year I actually had a chance to go out a couple days during peak bloom to get some source material myself, and there'll be a few more of my photos in the mix.
First, the tour specifics:

Garden Native Tour 2015
Saturday and Sunday, March 28-29, 2015
9:30 a.m. to 4:30 p.m. each day
San Diego
and
Poway
,
California
In taking the photos I did a certain amount of randomly wandering around gardens, looking for pretty pictures. But in the end I tried to select for images that showed gardens as intentionally-created arrangements of collections of plants. Although native gardeners often aim to recreate slices of nature on their properties, I tried not to include too many photos of plants that could be indistinguishable from photos that could have been taken out on a hike. These are gardens, after all.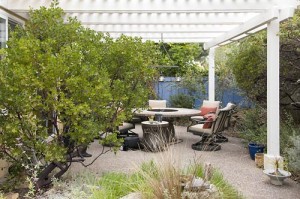 Also, I tried to get a few photos that might appeal to readers of aspirational shelter mags like Sunset, Dwell or Martha Stewart Living. (Five years ago I might have added "viewers of HGTV" to this sentence, but that network has long distanced itself from the "G" in its name. Pity.) A certain part of the public is immune to the siren call of the consumerist lifestyles highlighted in the pages of these magazines, and a large portion of the native plant community is even actively working against lifestyles that tax the earth's resources unnecessarily. Still, good intentions are no excuse for bad design, and the gardens scheduled for the tour show had plenty of intelligent and beautiful design details that made for good photos.
A garden-tour audience is broader than the core native-plant community, and many have some shelter-mag aspirations. What would be a better goal for an event than to show that you can have compelling design that treads lightly on the earth, and at the same time gives back by providing food and shelter for wildlife?
The tour will highlight work by accomplished local designers as well as homeowners, and runs the stylistic gamut from the orderly, decidedly gardenesque spaces of Greg Rubin (as in the one in the tour's signature image above) to near-wild spaces designed by Wes Hudson. And in between those poles you'll see lots of other approaches to garden-making.
For those of you not in San Diego County, you have almost four months to make your travel arrangements. (Really, it's not such a stretch. Last spring I ran into a couple from Portland that had read about the event on this blog. Pretty wild!) It's going to be another great garden tour, and I hope to see you there!
Thanksgiving Day saw us on the road, with some of that time exploring the crest of the Laguna Mountains about 90 minutes to the east of here. The stretch of S1 over the crest has  one of those wonderfully poetic names: Sunrise Highway.
There's a chance (ever-diminishing as I look at the forecasts) of winter weather on the way, but things were still blooming away here and there… A patch of Corothrogyne (Lessingia) californica, buckwheats, Datura wrightii, with both flowers and seed pods, a living example of optimism and practicality living side by side…
Patches of yellowing leaves let you know it was fall, but it's a pretty low-color year this time around. (The California Fall Color blog has the same opinion, and blames it on the bark beetle and drought.) Without the magic of Photoshop this dull photo would have been even duller.
Anyone traveling this route must stop at this amazing overlook down Oriflamme Canyon and over Vallecito Valley (which translates redundantly into "Little Valley Valley"). The valley floor lies more than a mile below the viewpoint, but the atmospherics today were amazingly clear. Since my last visit, the Chariot fire had swept through the area, taking out over 7,000 acres of landscape and almost 150 structures, including the Shrine Camp and one of the cabins at the Sierra Club's historic Foster Lodge. That was back in July of 2013.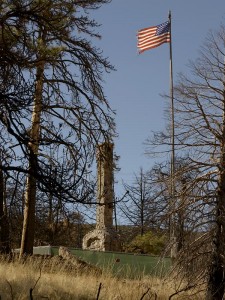 Like most California wildfires in this area, this one had a human origin–a BLM Jeep igniting some dry plants beneath it. Natural processes are geared to try to go back to some semblance of where things were before the fire, but the disproportionate number of human-source fires presses hard on the plants. A landscape that can recover from burning every century doesn't do well when stressed unreasonably. Invasive plants can move in and change the makeup of the vegetation completely.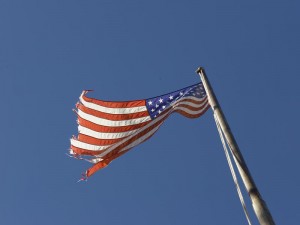 This area can see some pretty extreme wind speeds, and this spot is not far from the place where wind gusts topped 100 mph this past May during our most extreme Santa Ana Wind condition in recent memory. You might guess that from the shredded flag. Add some embers to winds like that and you have the perfect firestorm.
But…it wasn't doing that on this bright November day, and for that we were thankful, not to mention being thankful for the great scenery and looks at the great plants that live here.
You can take your own version of this trip courtesy Google Street View. I've placed the marker right at the big viewpoint. Enjoy your tour along the Sunrise Highway!