I love my drought-tolerant herbs, but I couldn't imagine summer without one that likes a little more water to do well: basil.
Last year, I shared that when I buy a bunch at the grocery I usually cut off the ends of the stems and place them in some water on the counter. Basil hates being refrigerated, and this often keeps the bunch fresh for as long as you remember to refresh the water.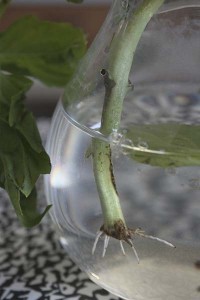 It's a nice countertop bouquet. But often the stems will begin to root in the water. After a couple weeks or so, once the stems are approaching an inch long, you can transplant the little plants into the garden.
Give them a little shade the first few days to ease the transition out into the real world. If the cuttings are transplanted when the nights are 55 to 60 degrees or warmer, they'll take off and give you enough basil so you won't have to buy any more basil for the rest of the season.
You probably won't know the exact variety of your basil, and you won't have access to all the varieties you might find in an herb specialist's catalog. (The Thyme Garden, for instance, lists 29 different basils.) But for all-around tomato-friendly summer cooking, the basil you'll find in the stores works great.

Last night we had dinner at a local Vietnamese restaurant that served us an interesting kind of mint as part of the meal. We didn't eat all of it and I pocketed what was left, thinking that what works for basil is sure to work for mint. Since mint has such an ability to take over your garden and your life, however, the new plants will have to adjust to life in pots.