How can you pick out a Californian from within a brig crowd? Just wait for a rainy day and see which one heads for the door to look at the amazing stuff falling from the sky. We don't see much of the stuff, especially over our dry summers. This past weekend was moist, one of only two periods of rain over the last four months. So there was this Californian, outdoors with camera in hand.
Pictures of raindrops on leaves are pretty common, over in cliché territory, almost as common as photos of raindrops on roses, but there's something satisfying about making more, particularly if you live somewhere rain can be pretty rare. Here are some quick photos from the garden.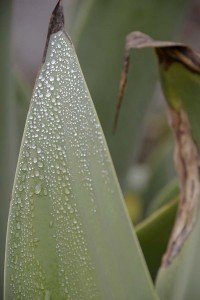 The first few are of raindrops on Agave attenuata.


This one displays the nice out of focus bare green stems of Galvezia juncea in the background–probably more interesting than the wet leaf. Photo geeks call the phenomenon of out of focusedness "bokeh," mostly used to refer to the shapes of bright spots in the blur. Lens reviewers drool over bokeh spots that are more circular than those that are irregularly-shaped like bladed lens apertures. Bokeh is a pretty unusual word so I had to go running to Wikipedia, where it pointed to "the Japanese word boke, which means "blur" or "haze", or boke-aji, the "blur quality". The Japanese term boke is also used in the sense of a mental haze or senility."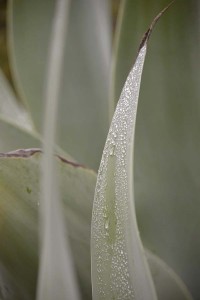 And now a few on tree aloe, Aloe arborescens. It's kinduv a scary-looking plant, dontcha think? But really cool, subtle, warm colors in addition to the green…

And I'm sure you've never seen photos of raindrops on spiderwebs (insert snarky smiley) so here's one.

And one final drops on spiderweb photo, this one in front of California matchweed, Gutierriezia californica, with nice little yellow bokeh circles from the out of focus flowers.